NE Life Coach – How are you living your life?
I've been reflecting on this question for a number of days now: how are you living your life? I've been trying to write this blog for 4 days but became too upset each time I tried.  So today, I'm accepting that I will get upset and acknowledging that it's OK to be upset and to be sad and to cry.
How are you living your life? Are you being proactive or reactive?
Proactive, of course, is about making things happen; whereas reactive is waiting for things to unfold before responding.  The reason this question has been preying on my mind is due to the sudden death of a dear friend last Wednesday.
Sadly, it often takes a dreadful occurrence to give us the jolt that we need.  I have experienced such a mix of emotions over the last few days.  Deep shock and sadness at such a wonderful man as Dr Kevin being taken way too early as well as feeling  anger, shame and guilt.
I guess it's the last 3 emotions, anger, shame and guilt, that I want to examine in a bit more detail in terms of how you're living your life.
To start, please indulge me while I tell you a little bit about Dr Kevin Phillips.  He has been a huge part of my life over the last 6 years.  I first met him through his twitter persona Toddy Furrington.  This persona was an elderly, extremely well-dressed, gentleman bear with a great big heart full of compassion; he went out of his way to help every single one of us he encountered.
He created amazing places on twitter for us to hang out, sharing his incredible imagination and photoshop skills to bring them to life.  Through him, my own bear, BooBooBear was able to become an Aviator and go on flying missions all over the world, to meet like-minded friends initially in the Teddy Embassy and latterly in the FurryTails clubhouse. BooBoo was in the parade for the Queen's Diamond Jubilee, has been a cowboy, a wizard, BooBooBearBond, Scooby Doo, a lion, attending barbecues, playing in world cup finals, casino nights and Star Trek missions to name but a few events skilfully crafted and brought to life by Dr Kevin.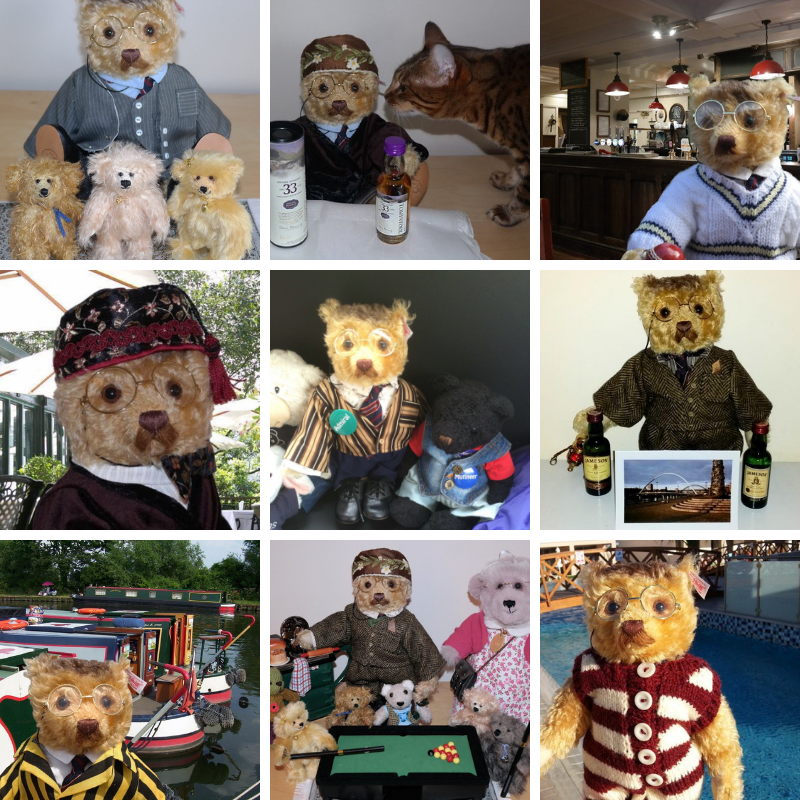 Does this all sound a bit mad to you?  If it does, that's OK.  I never understood twitter and thought I had better join before judging.  I joined as me and still didn't really 'get it'.  Then I discovered some teddy bears that were tweeting and BooBooBear soon joined them (he would want me to tell you that within a couple of weeks he had over a thousand followers to my 40!).
As you may know, hashtags are used so that conversations for events can be followed. #Furrytails being one whenever we were in the clubhouse or #theaviators when we were on flying missions.
The reason that this virtual world became so important to me is that I have suffered from clinical depression on and off since the mid nineties and I had another major episode of depression not long after joining twitter.  In those incredibly dark, scary and lonely days, it was only through my bear on twitter that I had any contact with the outside world.  My bear became my  voice and was the only way I could reach out.  Toddy Furrington (or Sir Toddy as I came to call him) didn't wait for you to reach out.  He would get in touch with kind words or a funny picture of himself and BooBoo just to check in.  He was all welcoming and as I look back over his messages to me at those times, I will be eternally grateful to him for the immense support he provided to me.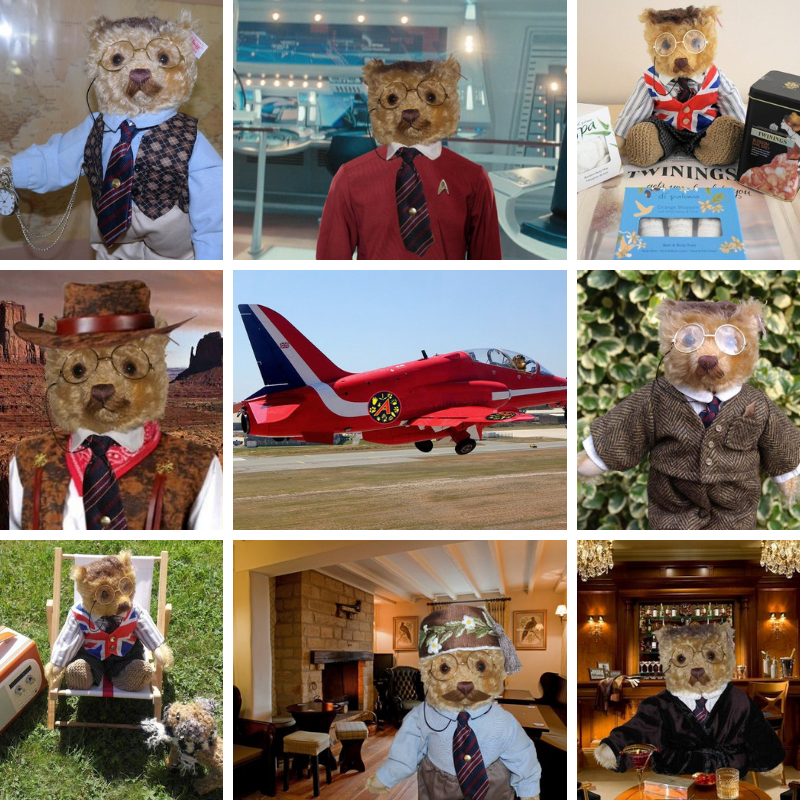 It would be a number of years later that we met in person.  In 2015 when we were both on a tweet up organised by our mutual amazing friend TourGuideTed and his assistant.  I cannot begin to tell you how excited I was at the prospect of meeting Sir Toddy and his Valet, Dr Kevin in the flesh!  I was quite starstruck!
It was clear from the first moment that Sir Toddy was a true reflection of Dr Kevin's personality and values.  Dr Kevin has been described as a 'gentle giant of a man with the heart of a teddy bear' which is spot on! He was exceptionally intelligent with a quick wit and genuine interest and care for other bears (and people) so it was a joy to meet and talk to him.
That was the only time I met him in person.  There were many other tweetups that he attended but I didn't go for one reason or another; reasons which seem so unimportant now; reasons that reflected me living a reactive life becoming absorbed in what was happening in my own little corner of the world and I feel shame for that.  As life became busier, running my own business and contracting full time, BooBoo wasn't on twitter as much and I feel guilty that I didn't make more of an effort to make time for it.  I cannot change it; I can accept the feelings having sat with them for a few days to explore them and will be able to let them go but only if I make some changes in my life and routine to ensure that I'm living a proactive life and please feel free to hold me to account for that.
That leaves anger.
Why anger? Well there are a couple of reasons.  Firstly, the comments of some that social media friends aren't 'real'.  They are friends, they make me laugh, cry, think, participate and are always there for each other without judgement.  Thanks to social media, like many others, I have made incredible friends all over the world and whether we meet in person or not, they are still dear friends.  Indeed, the tragic loss of Dr Kevin and Sir Toddy is being felt all over the world such was the depth of his friendship with many, many bears and humans.
Secondly, I have recently discovered that the police were alerted because Dr Kevin and Sir Toddy hadn't been visible on social media or attended any of their usual virtual events.  They had gone silent which was simply not normal.  Police were contacted to make a welfare check but as it was a twitter friend it didn't meet the criteria for any action to be taken. My understanding is that this was requested at a point when Dr Kevin was still alive.  Would it have made a difference if the police had acted?  Sadly, we will never know.  Perhaps it wasn't taken seriously as they were a social media friend and I guess that it would have certainly been an unusual request to them.
You can read more about the reality of social media friendships and welfare check  here from Teddy Tedaloo and Mitzi Szereto who cover it much more eloquently than I can.
Thank you for reading this and bearing with me (no pun intended).  Get out there and live your life, don't wait for things to happen, make them happen and have lots of fun and silliness in the process.  If you are worried about the absence of a friend from social media – please take action.
Finally, a massive thank you to Dr Kevin for all the joy, love and support you brought to my life through your wonderful little gentleman bear Sir Toddy Furrington as well as the rest of your hug.  Rest in Peace and Fly High chaps! #BeMoreToddy